"I know there is a better way"
For over 20 years we have responded to your needs and wishes and have developed the most comprehensive charity golf event planner available today. Capable of planning all types of charity events, TournaKit Pro addresses in detail the unique issues you will encounter when planning a charity golf tournament.
If you are just starting out or you are a seasoned event planner this is the quickest way to get organized and boost productivity.
"My event is growing"
You have been doing a good job using spread sheets and a word processor but things are getting out-of-hand.
Start to make the process stress-free and manageable in less time. Take charge of your data and eliminate those spread sheets.
Data drives everything so you have to make sure it's right. By working from a single point of control you can be confident your data is ready for action.
TournaKit Pro is an integrated database application that get's installed and runs on your computer. Your data will be safe, secure and completely in your possession.
"I want a long term solution not a web-based subscription."
We pride ourselves in 'handing over the keys' to our customers. Our desktop software provides you security and independence.
For two decades we have been designing database solutions. With TournaKit Pro our goal since day one has been to develop a charity golf planning tool that makes it easy from start to finish and all in one place.
When the time comes for you to 'pass the baton' feel comfortable that everything they need is here.
It is time to hit the pavement running with our time tested features, you will benefit immediately with professional results.
---
Get Ready with TournaKit Pro and Raise More Money...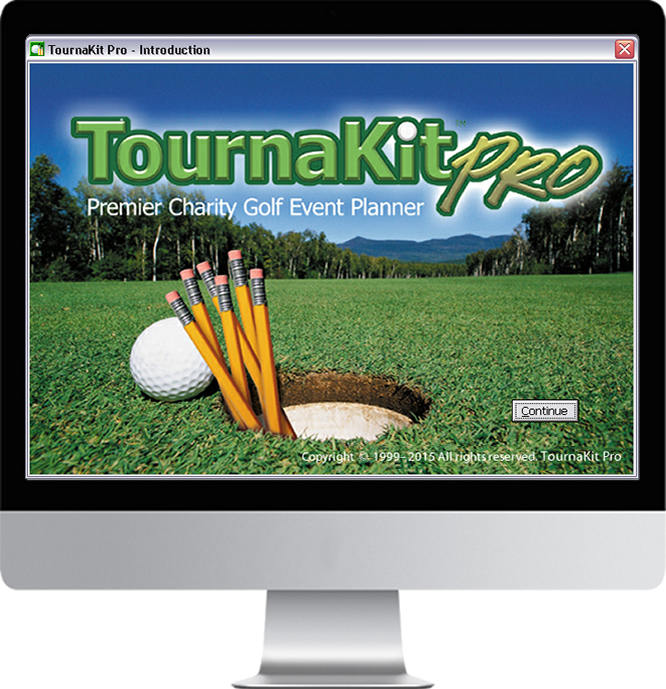 Make It Possible with Reliable Data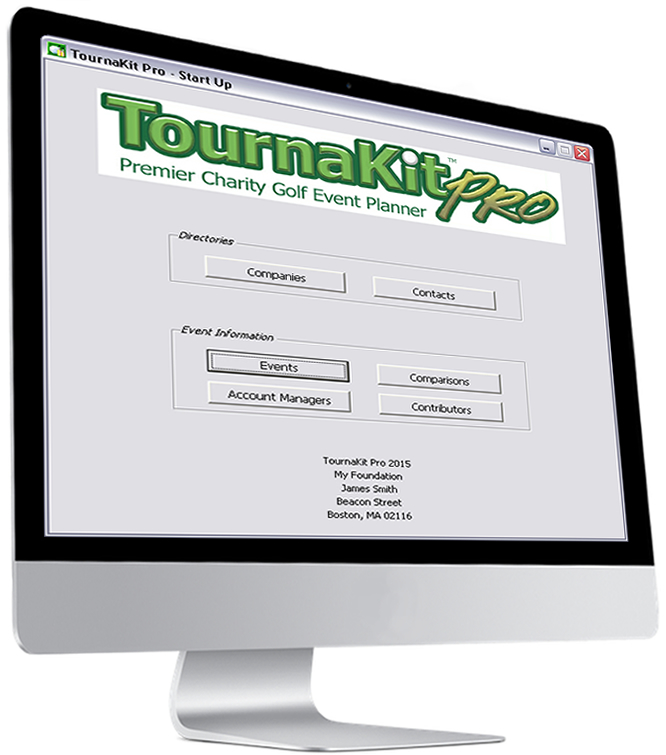 Seamless Integration Built From The Ground Up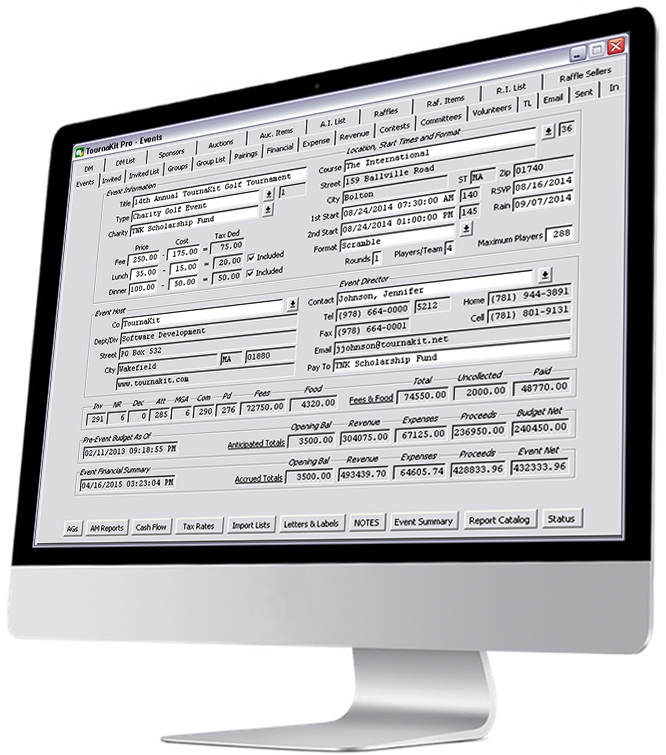 TournaKit Pro Synchronizes All The Moving Parts
Unlimited Events
Tab Click Access To All Parts of Your Event
Event Invoicing and Receipts
Mail Merge, Letters, Labels, and Envelops
386 Reports
Unlimited Calcutta, Live and Silent Auctions
Over 400 Auction Templates - Get Professional Looking Results Fast
Brand All Templates, Invoices and Receipts with Your Logo
Easy Auction(s) Check Out with Line Item Invoices and Receipts
Automated Buyer and Donor Receipts
Automated Buyer and Donor Thank You Letters
Assignable Paddle Numbers to Registered Bidders
Easy Auction(s) Check Out with Line Item Invoices and Receipts
Bid Numbers Automatically Assigned To Registered Attendees
Auction Bid Number ID Cards with Optional Table Assignment - Avery (8871)
Item Identification Tags - Plain Paper and Avery (22802 | 22803 | 72474)
30 plus Auction Reports for Buyers, Donors, Financial and Statistics
Assign Account Manager to Any Event Transaction
Track Responsibilities and Goals
Identify Who Brought In Donors and Sponsors
40 Goal Tracking Reports
Single Source Data Entry Contact Information
User Definable Fields Provide Flexible Classifications
Track Golf Handicaps
E-mail - Individual and Group
Built-in Mail Merge, Letters, Labels and Envelopes
Automated Contact Event Transaction History
Activity and Health Profiling
Member Organization and Information
Create and Import Player Lists to Golf Tournament (replicate any event)
50 Contact Reports
Single Source Data Entry
User Definable Fields
E-mail - Individual and Group
Built-in Mail Merge, Letters, Labels and Envelopes
Automated Contact Event Transaction History
Activity and Health Profiling
Member Organization and Information
Create and Import Invitation Lists to Your Event (replicate any event)
50 Contact Reports
Centralized Data for All Event Transactions
Get a Good Look - Multiple Lists for All Event Transactions
96 Unique Billing Reports
Invoices and Receipts for Sections or Entire Event
Compare Financial Summaries and Event Statistics on Any Four Events
Configure to Compare 10 User Defined Categories

Example: Compare on sponsors type by existing, new, and unique
Example: Compare Hole and Tee Box Signs sold, mulligans etc.

Gain Decision Making Insights with Visual Comparisons
Easily Spot Fund-raising Patterns