You will be able to produce cover sheets, silent auction bid sheets, invoices and receipts with 'The Look' as if created by a professional graphic designer.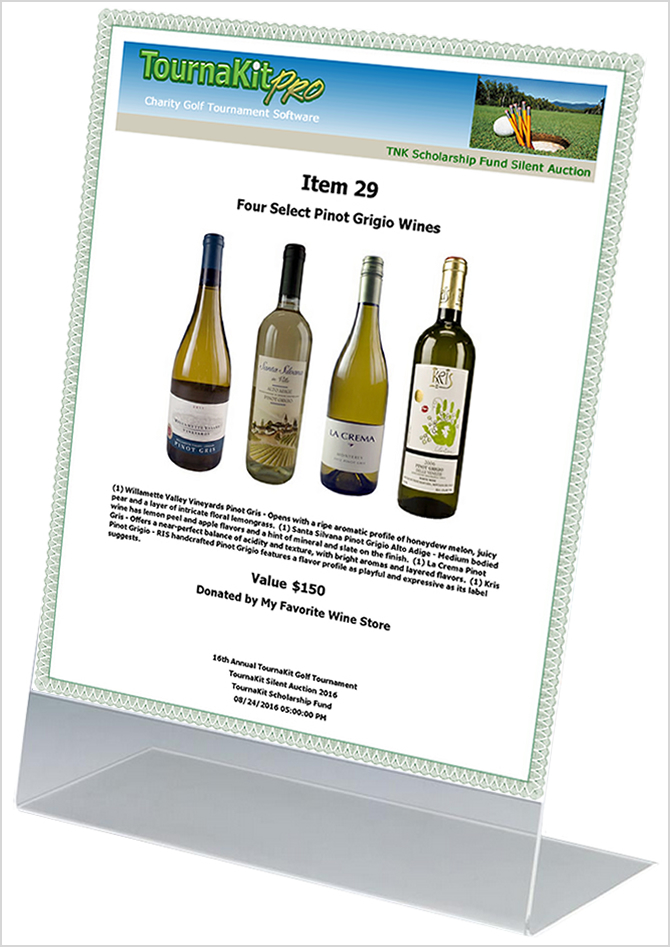 Automated Silent Auction Bid Sheets
Have It Your Way...
With over a 100 silent auction bid sheet template variations. One of the more popular silent auction bid sheet formats requires bidders to use preassigned bid numbers instead of their name and the silent auction bid sheets start with a minimum bid amount.
Go to 'Auction Images - Silent Auction Bid Sheet Templates' for more silent auction bid sheet examples.
Time To Go Home!
Eliminate Confusion with Line Item Invoices and Receipts
Closing out single or multiple auctions is simple. Your auction buyer wants an invoice. With a click, TournaKit Pro will quickly produce a line item invoice for ALL your auctions.
Invoice Please...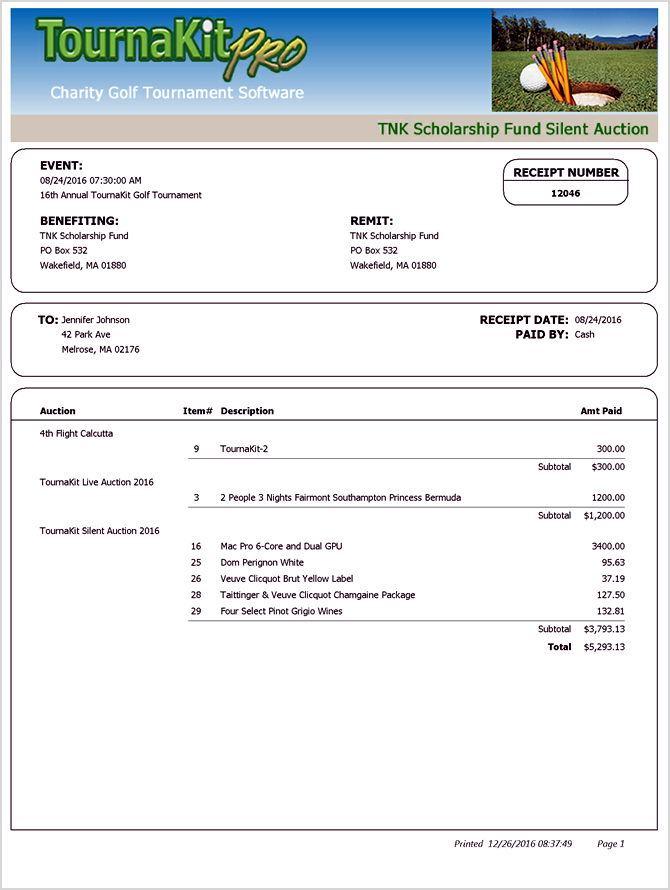 Thank You Very Much
Here's Your Buyer's Receipt...
TournaKit Pro makes it possible to pay for auction items from multiple auctions and generate an instant line item receipt (market value optional).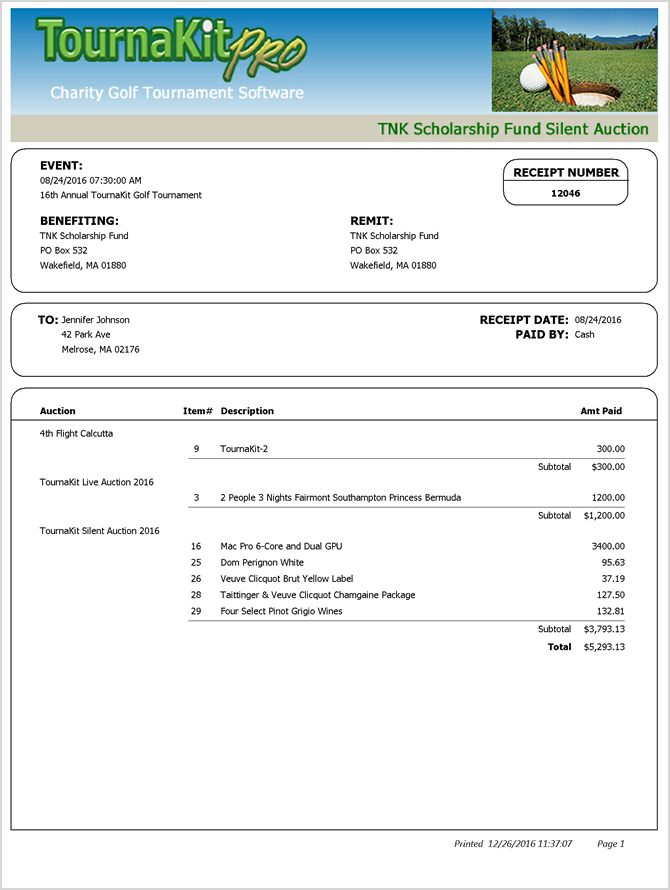 Auction Item Not Present
I Need A Gift Certificate...
Create your very own styled gift certificate with 14 auction item gift certificate templates to choose from. Available in both portrait and landscape formats you can add your organization's logo and border to personalize your own auction item gift certificate.
Auction Item Catalog
56 Auction Item Catalogs Templates To Choose From
In a matter of minutes produced your auction(s) item catalog and group e-mail out a PDF version to everyone in your TournaKit Pro Contact directory. Of course you can print and distribute your auction catalog by mail or have readily available for the day of your event.
Auction Item Donation Form
Donation Forms Increase Efficiency and Revenue
You have 56 Auction Donation Form templates to choose from.
Make it easier on yourself to create complete and descriptive auction item records with help from the auction item donor.
A completed auction donation form will provide current donor contact information, a market value estimate, and good auction item description that can be used to produce essential documents most especially the silent auction bid sheet.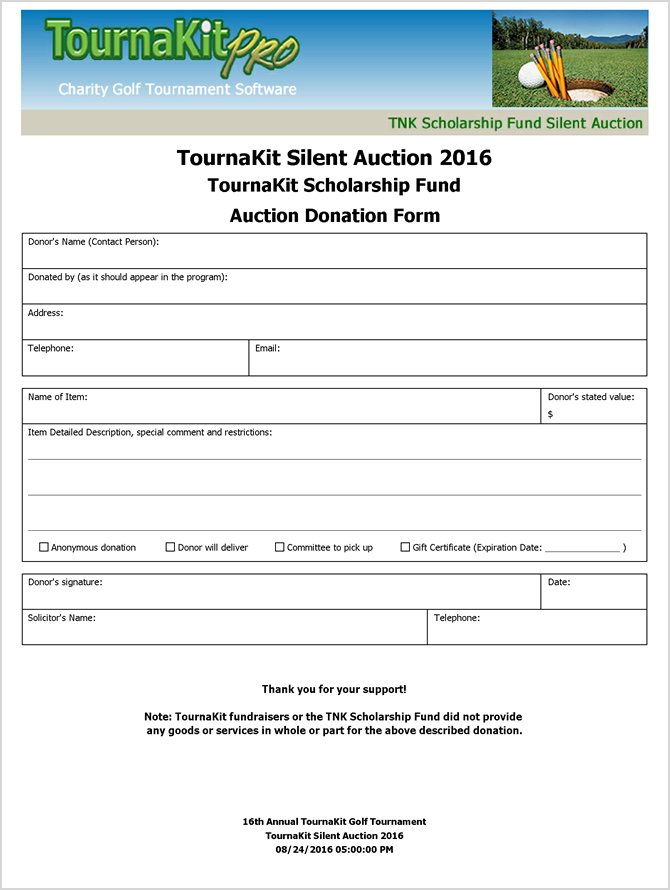 Auction Reports
Over 80 'All Auctions' and 'Single Auction' Reports
Financial & Statistical Summaries Combined and Separate
Auction Items & Buyers
Auction Donors & Items
Auction Items Received
Invoice Reports - Summary, Paid, and Unpaid
Calcutta Results
Calcutta Teams & Buyers
Account Manager Reports

Buyers & Auction Items
Donors & Auction Items
Items Received
Everyone Wants To Know Who Bought What?
By The Auction Item Number...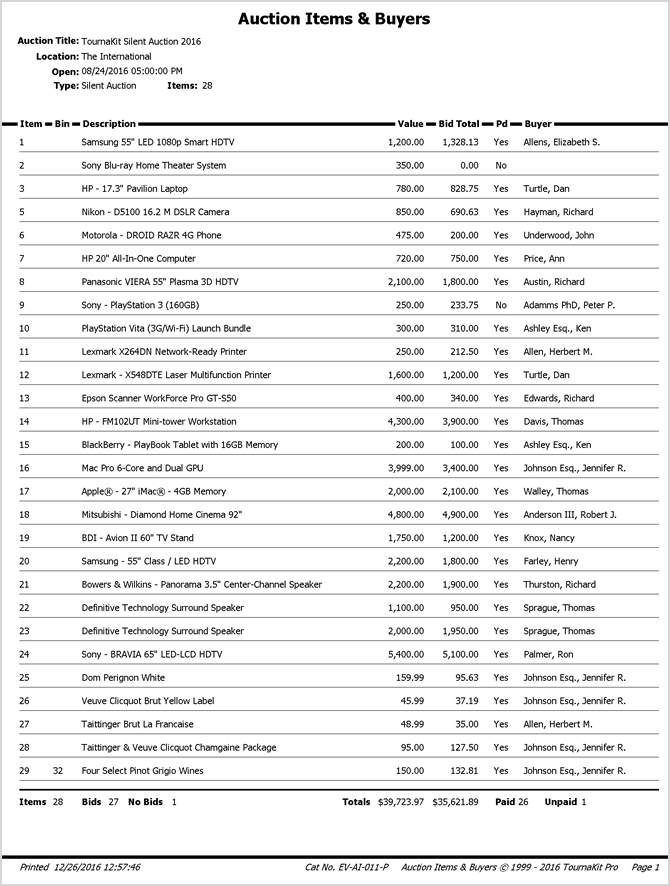 It's Over Before You Know It!
Who Has Not Paid?